Testing and Inspection System
In addition to upholding our own voluntary standards, we will meet the highest quality standards both in Japan and in other countries. Our mission is to support the safe and stable operation of power plants and large industrial plants. We offer products of high added value by performing measurement and analysis to meet our customers' stringent requirements. Moreover, we perform non-destructive testing as well as proprietary performance testing that includes materials, processes, and welds.
1. Non-destructive testing
(1) Radiation transmission test
This is an internal inspection of materials utilizing the phenomenon by which the density of a substance determines the degree of transmission of X-rays and γ-rays to which it is exposed. We use this method to inspect cast steel valve boxes and welds for defects.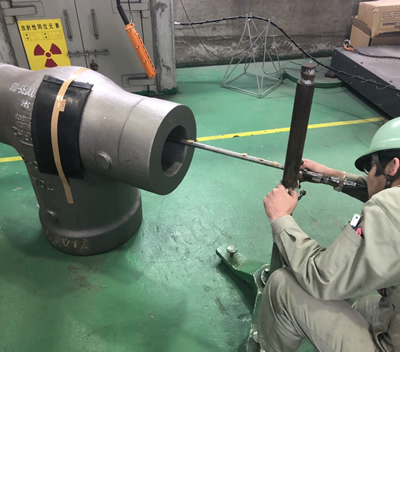 (2) Ultrasonic test
This test uses the directivity of ultrasonic waves to detect flaws. Used to inspect metallic materials and welds, this test can detect minute cracks that are difficult to find in radiation transmission testing.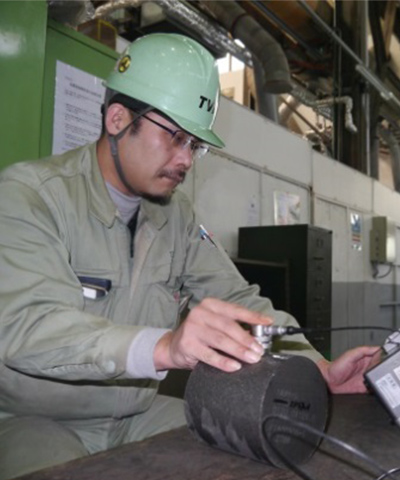 (3) Penetrant test
A test that can be performed relatively easily, the penetrant test is used as a material inspection for welding and processing. It enables visual detection of minute surface defects on cutting surfaces and valve seat sliding surfaces.
(4) Magnetic particle test
This test detects cracks and scratches on the surface layer. The valve is magnetized beforehand and the valve surface is sprayed with magnetic particles. Magnetic particles collecting along cracks allows for visual determination of cracking. This test is widely used in combination with the penetrant test.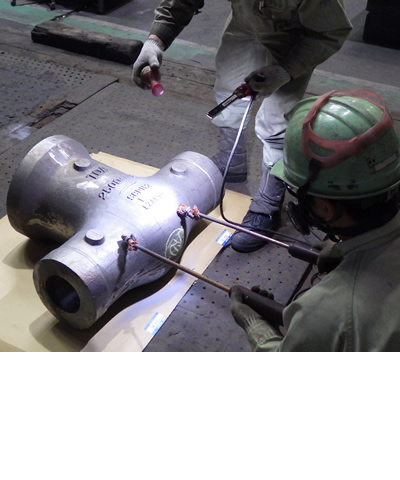 2. Performance inspection
(1) Steam test
A pressure blow-out test is performed to confirm the specified operating performance. Safety valves are strictly regulated by domestic regulations; therefore, pressurizer safety valves and main steam safety valves and the like for nuclear power generation with PWRs are tested in-house under the supervision of the Ministry of Economy, Trade and Industry.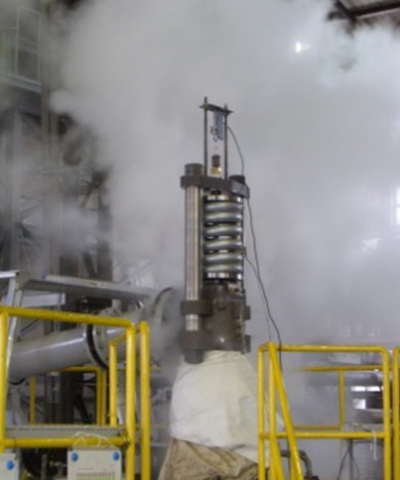 (2) Water pressure test
This test confirms the airtightness of the pressure-resistant valve components. A constant test pressure is applied to confirm the overall pressure resistance and reveal any valve seat leakage. It incorporates two devices for small-diameter and large-diameter valves. It can test up to a maximum pressure of 196 MPa and a maximum load of 1,300 tonnes. We are equipped with a hydraulic test press designed and manufactured to our own specifications.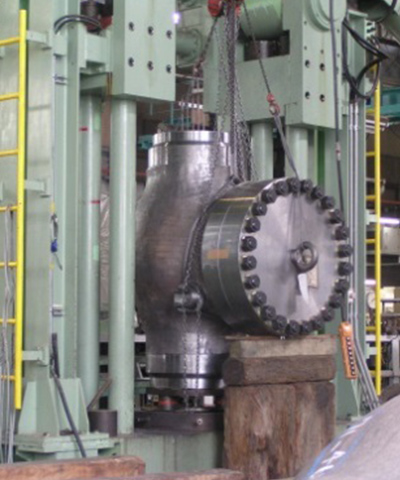 (3) Special pressure resistance test
If the valve mass exceeds 5,000 kg or if the valve surface exceeds 1,700 mm, a special flange is attached to the valve inlet and outlet to perform the hydraulic test and operation test.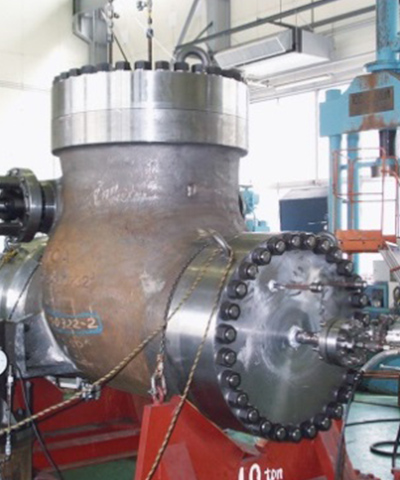 (4) N2 test
In this test, nitrogen gas is used to detect leakage and confirm operation of the moisture separator relief valves used in BWR nuclear power plants.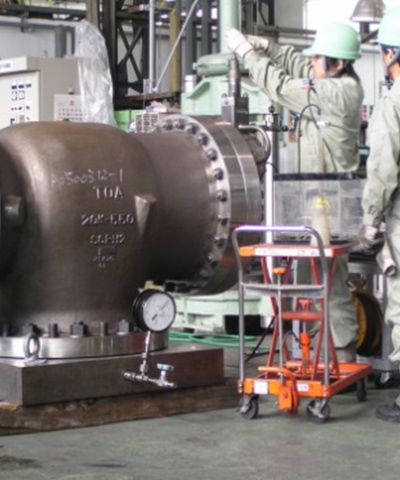 (5) Safety valve spring eccentricity measurement(5) Safety valve spring eccentricity measurement
This test is used to inspect the lateral pushing force when the spring is compressed. The spring is compressed to a load equivalent to the blowout pressure of the safety valve. The load center point is determined to prevent the lateral pushing force that causes seat leakage.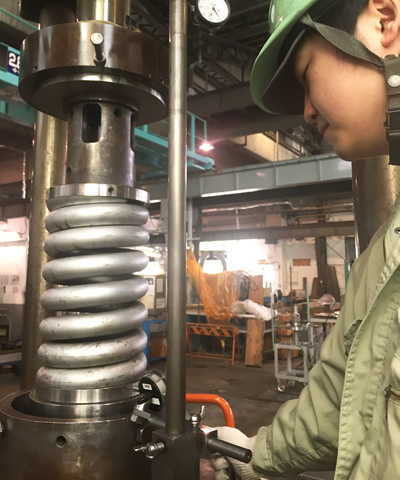 (6) Electric valve actuation test
This test determines whether the switching time, current, lift, and other specifications are within the specified values when a voltage of the specified frequency is applied.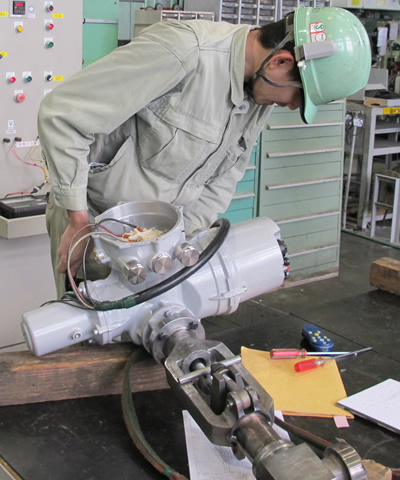 (7) Flow rate test
The flow rate test causes water at a specified test pressure and volume to flow to determine the coefficient of flow (CV) at each opening.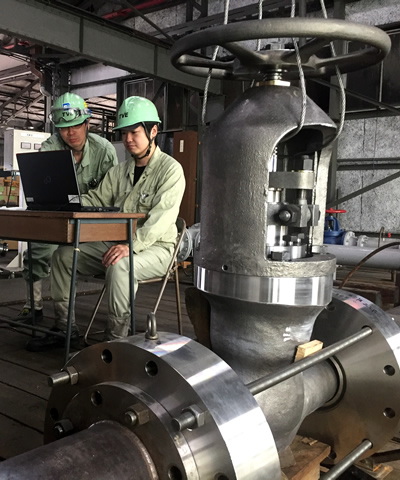 (8) Safety valve accuracy test
After a load is applied equivalent to the spring load at the safety valve's blowout pressure, pressure is applied at the bottom of the valve at the blowout pressure to measure the behavior of the valve body.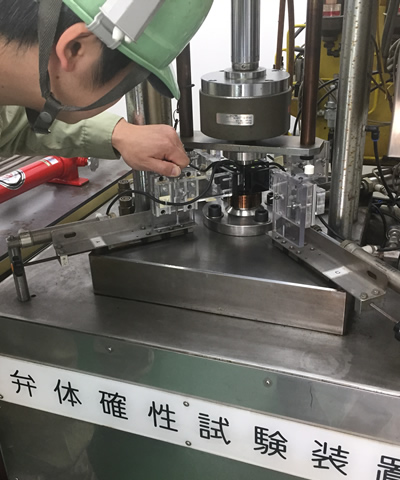 Our comprehensive production system and thorough quality control system
continue to meet the challenge of maintaining high quality standards.
Even as valves become more affordable, demand for safety, reliability and quality always remains at the forefront.
At TVE, every employee remains committed to the challenge of maintaining quality in every process from research and development to order taking, production management, design, procurement, manufacturing, testing and inspection, and maintenance, all the while working in harmony with one another on our advanced technologies. As evidenced by our certification of ISO 9001 registration, we are dedicated to implementing quality control.
We take pride in meeting our responsibility as a leading manufacturer in the valve industry, both in Japan and in other countries, and we are committed to contributing to the future of society and achieving new breakthroughs. In addition, on October 23, 1992, the ISO certification and registration agency DNV (Det Norske Veritas AS, now DNV GL) approved our establishment and introduction of an international quality control and quality assurance system. We were thus the first valve company in the industry to become registered as such and to maintain ISO 9001 certification, having passed the ISO 9001:2015 (revised) certification transition examination. We continue to make ongoing improvements to our quality management system.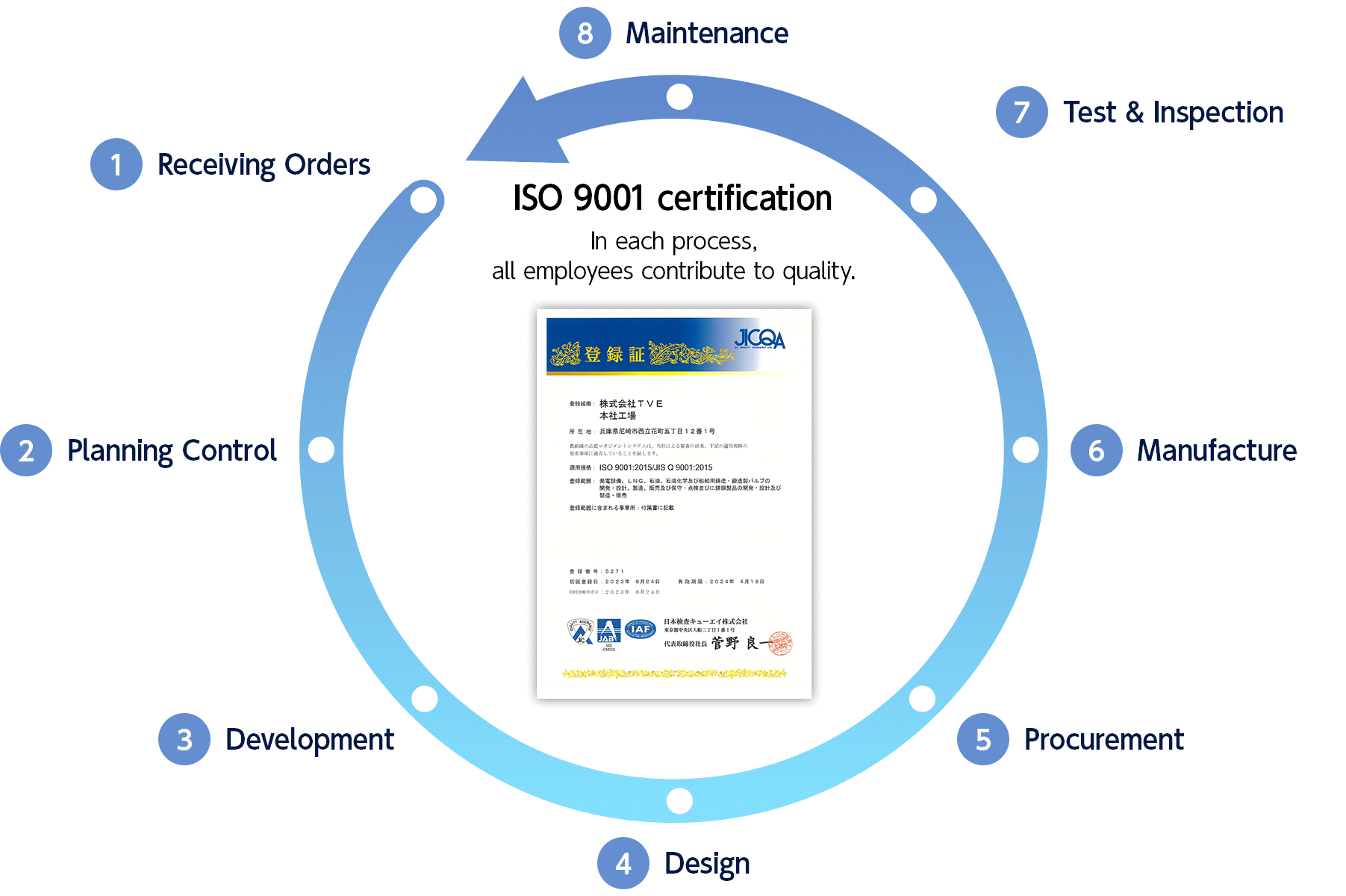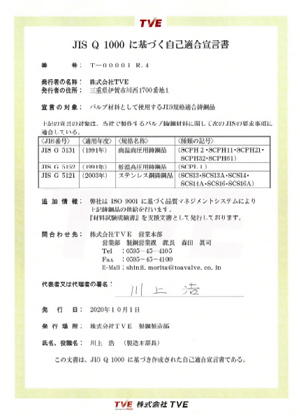 Supplier's Declaration of Conformity with JIS Product Standards
We supply high-temperature and high-pressure cast steel products, low-temperature and high-pressure cast steel products, and cast stainless steel products under an ISO 9001-certified quality management system along with a Supplier's Declaration of Conformity with the JIS Q 1000 standard.
Supplier's Declaration of Conformity with JIS Product Standards
Quality Policy
TVE's Medium-term Quality Policy
Our technical strengths and high quality make us the most-in-demand valve manufacturer. By adhering to our slogans "The Power of Human Resources, The Power of Innovation, and The Power of Solutions," we develop the power to continue providing highly valued products and services that meet the expectations of our customers and society at large, all in compliance with related laws and regulations. In order to continuously improve the effectiveness of our quality management system, we continue to set stringent quality goals and implement initiatives to achieve them.
Our Quality Goals
1. To improve customer satisfaction

We will accurately identify the needs and expectations of our customers and other stakeholders and will enhance the value-added products and services we provide in order to satisfy our customers through best-possible efforts ("overall optimization").

2. To implement improvement activities

We will directly examine the business climate in which TVE operates, identify external and internal issues as well as risks and opportunities due to changes in the economic environment, and strive to implement improvement activities that meet the needs and expectations of our customers ("adoption of TAMES activities and digital technologies").

3. To eliminate nonconformities

In addition to taking steps to prevent nonconformities, relevant departments are committed to collaborating in the event a nonconformity arises. We will share information across the organization and work together to solve the problem under the "go and see" principle (collecting actual data on the actual item at the actual site); moreover, we will take on the challenge of devising new ways of thinking and adopting new perspectives ("growing by taking on challenges").

4. To provide training and education

We plan effective training and education aimed at preserving skills for posterity and passing on the skills of all parties involved in TVE's quality assurance activities. We are also providing training to improve learners' abilities to clear the hurdles they face ("improving your own skills and those of your associates").

5. To foster a safety culture

In addition to implementing daily safety management initiatives, we will contribute to society by focusing on fostering a culture of safety and by upholding the safety and security that our customers demand ("remaining safe and secure").
Koumei Sasano
President & CEO
TVE Co., Ltd.
October 1, 2019